Trailritt (Kopie 2)

See (Kopie 2)

Pilchas (Kopie 2)

Parade (Kopie 3)

Parade (Kopie 4)
Trip to Uruguay March 2024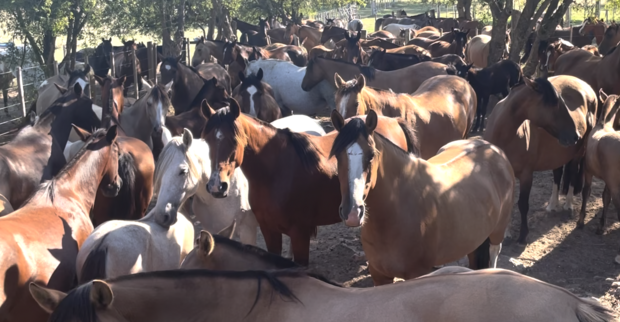 Preliminary trip description:
Jointly organised trip (ANACC and CRZVD) to buy horses and experience gaucho culture in Uruguay.
Destination: Uruguay
Duration: 12 days / 11 nights
Travel period: 3 to 14 March 2024
Number of persons: 20 participants
Experience the fascination of Uruguay: travel with us and immerse yourself in the gaucho culture
Discover Uruguay and its unique horse culture in March 2024
If you are a passionate horse buyer, a European breeder looking for an exchange of experiences, or simply curious about Uruguay and its captivating Gaucho culture, then we have just the thing for you! We cordially invite you to join our exclusive collaborative trip taking place in March 2024. This exceptional opportunity is organised in close collaboration with the renowned SCCCU (Sociedad de Criadores de Caballos Criollos del Uruguay). It is important to stress that there is no obligation to buy a horse!
Our local partners - SCCCU and Uruguay Travels
Our esteemed South American friends are full of enthusiasm to introduce you to Uruguay and the fascinating world of the Criollos. Under the professional guidance of Birgit Ketel from Uruguay Travels (www.uruguay.travels.com) this trip will be an unforgettable experience.
Insight into the journey
During this exciting trip, you will have the unique opportunity to visit various respected horse breeders, experience breathtaking horses up close, and dive deep into the fascinating gaucho culture. For potential buyers, we will obtain quotes from freight forwarders to provide you with smooth and cost-effective air transport to Europe.
Fiesta de la Patria Gaucha - A Celebration of Culture
A highlight of this trip is undoubtedly a visit to the Fiesta de la Patria Gaucha in Tacuarembó. Immerse yourself in the colourful hustle and bustle of the rodeo, experience a variety of cultural events and take the opportunity to purchase authentic South American equipment such as clothing and saddlery. An absolute highlight awaits you on Saturday, 9 March 2024 - the impressive Desfile, where you will ride through the vibrant streets together with 5,000 gauchos and gauchas. Be celebrated by the enthusiastic spectators and experience a real goosebump feeling.
Adventurous Trail Ride - Experience Uruguay's Nature
Our programme also includes an unforgettable two-day trail ride on reliable criollos or mestizos. Enjoy the breathtaking landscape of Uruguay and feel the close connection between man and animal during this exciting adventure trip.
Reserve your place now!
Places on this unique trip are limited, so don't delay and secure your place now. Immerse yourself in the world of the criollos, experience the magic of gaucho culture and create unforgettable memories. Contact us today for more information and to reserve your place.
Experience Uruguay like never before - we look forward to welcoming you on this unforgettable journey!
Independent journey to Uruguay / Meeting point and start in Montevideo
03.03.2024 / Montevideo
Meeting point in Montevideo, overnight stay in Montevideo (district Punta Carretas directly at the Rambla)
04.03.2024 / Montevideo - Breeder 1
After breakfast joint departure and visit of the first breeder. Overnight stay in ?
05.03. to 08.03.2024 / Countryside
Visit of further breeders, overnight stay in ?
09.03.2024 / Tacuarembó - Patria Gaucha
After breakfast, drive to Tacuarembó and participate in the big parade on horseback. Afterwards visit of the festival. Overnight stay in Tacuarembó or in the surrounding area.
10.03.2024 / Tacuarembó - Patria Gaucha
Visit to the festival. Overnight stay in Tacuarembó or in the surrounding area.
11.03. and 12.03.2024 / Trail ride
Trail ride in the region of the Valle Lunarejo with overnight stays in different posadas (nearby) in the Valle Lunarejo.
13.03.2024 / Montevideo
After breakfast, return journey to Montevideo and overnight stay in Montevideo (Punta Carretas district directly on the Rambla).
14.03.2023 / Montevideo - Germany
Return flight to Europe
Price per person approx.: € 2.000,- (2.120,- USD)
The exact price will still depend on the number of participants and the location of the breeders.
The CRZVD acts exclusively as organiser and agent. Contractual partner is Birgit Ketel, URUGUAY TRAVELS www.uruguay-travels.com info@uruguay-travels.com.
Payments are to be made to a German account of Uruguay Travels.
Note: Please note that the exact itinerary and participating horse breeders are subject to availability. However, we will ensure that you experience a varied and enriching trip that appreciates both horse buying and Uruguayan culture.
Non-binding cost estimate
The price includes the following services:
2 nights in Montevideo including breakfast
2 nights in Tacuarembó or surroundings including breakfast
5 nights in the interior of the country including breakfast
Participation by horse in the big parade side by side with the local "gauchos
Trail ride with 2 overnight stays including horses and saddles, meals, non-alcoholic drinks, guides
drinks, guides, car for luggage transport and insurance in case of riding accident.
Costs for the bus with driver as well as overnight stays for the bus driver during the itinerary
Not included in the price:
Transfers from the airport to the hotel on the day of arrival and from the hotel to the airport on the day of departure.
Entrance fee Patria Gaucha Festival
Not listed meals and drinks as well as not listed services and personal expenses
Travel insurance (health insurance and cancellation insurance)
Important information:
The price is based on a participation of 20 persons. The above price is only a rough estimate. Only when we have concrete information about which breeders will be visited and where their farms are located, can the prices be specified! Double and shared rooms have been considered for the trail ride and single rooms for the rest of the trip. Some bathrooms will also have to be shared during the trail ride.
No reservations have been made. Prices and availability are subject to change until final booking.
Transfers can only be booked once information is available on when participants will arrive in Montevideo. These may be individual or group transfers. (I assume that the participants will not all be on the same plane).
Due to the fluctuating exchange rate, the tour price is quoted in USD. However, this can be converted into euros when payment is due and transferred to an account in Germany. Payment by credit card is not possible.
Flights are not included in the tour price. Economy class flights from Frankfurt or Munich via Madrid or Sao Paulo are currently around € 1,060 with Iberia or Latam.
Transport of a horse from Uruguay to Europe: Approx. € 10.000,-.
The prices for Criollos in Uruguay, just like in Europe, have a wide range, depending on age, pedigree, quality and level of training. Overall, the price level is much lower than in Europe and the selection much more extensive.
You can register for the trip using the form below. You will then receive an invoice from Uruguay-Travels for a deposit of € 480,-. We need this to reserve the hotel in Tacuarembó and the trail ride.